Dell Outlet Interactive Touch C5518QT Screen, 54.6" Screen.
Price: £1,554.00
Ex Vat: £1,295.00
Dell Outlet Interactive Touch C5518QT Screen, 54.6" Screen.
Impressive visuals. Impactful presentations.
Exceptional viewing: Brilliant 4K resolution will keep audiences captivated, and consistent colors across a wide viewing angle allow everyone in the room to view clear text and crisp, vivid visuals.

Optimal performance: Dell monitor technology optimizes fonts and ensures visuals appear sharp while operating everyday programs like Microsoft PowerPoint, Word and Excel.

Consistent clarity: Anti-glare and anti-smudge coatings reduce distracting reflections and fingerprints.

Great for groups: The impressive 55-inch touch screen is ideal for conference room settings of up to 8 people.
---
Just the right touch
Constructive collaboration: Featuring up to 20 touch points with innovative InGlass™ Technology, multiple people can interact with the screen simultaneously via touch or styluses with 2mm pen tips, making group collaboration intuitive and seamless.

Smooth interaction: Two included styluses allow you to write or draw naturally in real time directly on the screen without any lagging, while the included remote allows added functionality.

User-friendly functionality: Pen and finger differentiation makes it easy to switch between touch and pen-based interaction, and touch functionality is supported on virtually all industry-standard software.
---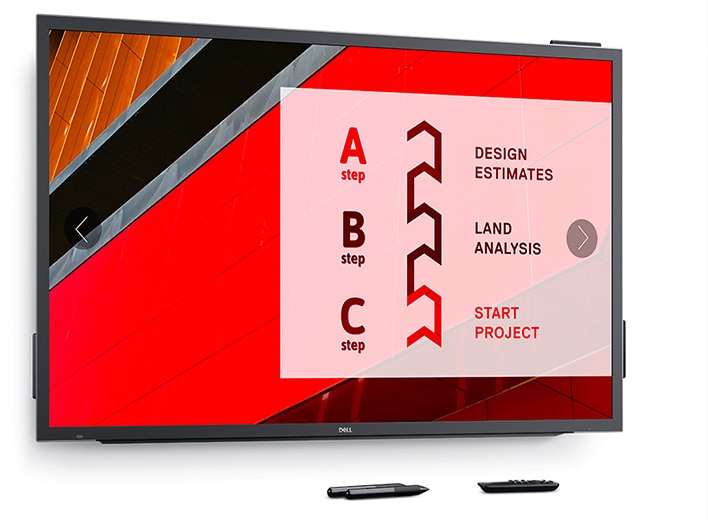 Simple setup and management.
Convenient connectivity: A variety of ports – including HDMI, VGA, DisplayPort and USB – makes it easy to connect to most IT devices.
 
OptiPlex compatibility: The Dell 55 4K Interactive Touch Monitor features a unique design that's compatible with the optional Dell OptiPlex Micro, which integrates seamlessly into the back panel without the need of a separate power cord.

Connect wirelessly: The optional Dell Wireless Module | WR517 enables secure, reliable wireless activity.

Easy manageability: The Dell Display Manager lets users easily organize screen layouts. RS232 and RJ45 interfaces allow you to manage the display remotely.
---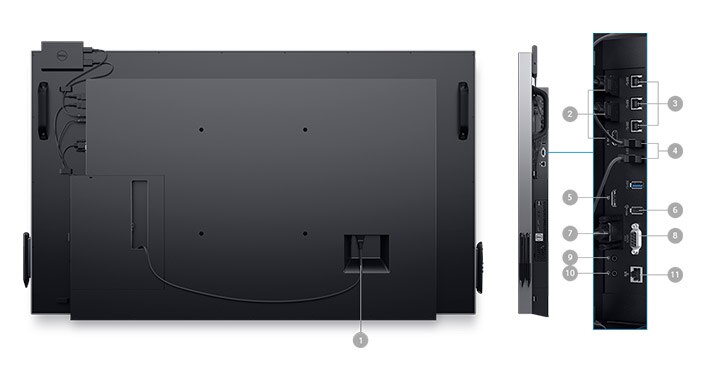 Connectivity Options
Ports and Slots:
1. Power Connector | 2. HDMI (x3) | 3. USB Type-B (x3) | 4. USB 3.0 | 5. DisplayPort | 6. Charging Port | 7. VGA | 8. RS232 Input | 9. Audio Input | 10. Audio Output | 11. RJ45 Ethernet

Cables Included:
1. Power Cable
2. DP - DP Cable
3. HDMI-HDMI Cable
4. VGA Cable
5. USB Cable
6. USB Upstream Cable
---
Peace of mind, guaranteed.
A brand you can rely on
As the No. 1 monitor brand worldwide for 4 consecutive years (2013 to 2016)i , we take pride in our unyielding commitment to quality and the utmost satisfaction of our customers.
---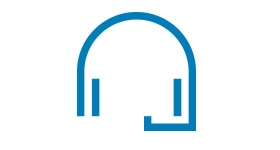 Expert Support
Relax knowing that your Dell monitor comes with next business day Advanced Exchangei if your warranty issue can't be resolved over the phone. Get a higher level of support with ProSupport for monitors which includes 24x7i access to ProSupport engineers for set-up, configuration, troubleshooting, and more, as well as next business day Advanced Exchangei.
---
Reliable and responsible
Designed with the environment in mind, this monitor meets the latest regulatory and environmental standards such as China Energy Label, CEL, WEEE, ErP (EuP) Standards, Korea E-Standby.
---
---
Accessories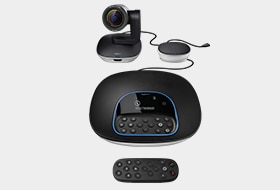 Logitech GROUP
Turn any meeting space into a video-enabled collaboration place using your own computing environment and unified communications application of choice.
---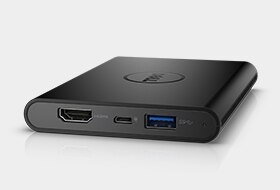 Dell Wireless Module | WR517
Easily connect to large displays wirelessly – even without an internet connection so it's perfect for presentations.
---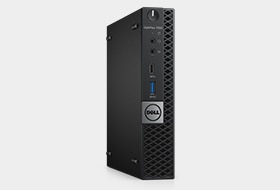 OptiPlex 7040 Micro PC with Intel® Unite™
Transform your conference room with easy wireless collaboration, real-time sharing, annotation and more.
---
---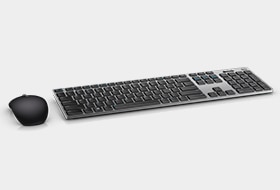 Dell Premier Wireless Keyboard and Mouse | KM717
Rely on high-quality, wireless performance in a modern design. This duo facilitates a clutter-free desktop experience.
---
---
Dell Outlet Interactive Touch C5518QT Screen, 54.6" Screen.
 
 
 
Ports
 
 
 
VGA
1
 
DVI
 
No, of inputs
2
 
HDMI
Screen
 
 
 
Resolution
3840 x 2160
 
Screen Colour
Black
 
D-Port
1
 
Screen Size
54.6
 
Screen Height
1
 
Screen Width
55
 
Youch Screen
1
 
Response Time
[object Object]
 
Contrast Ratio
1000:01:00
 
Tilt &Swivel
Webcam
 
 
 
Built in
Warranty
1 Year Deane Return to Base Warranty
Hard Drive
HDD
1
HDD Detail
1
Memory
Ram Detail
Ram Size
2
Operating System
OS Detail
OS Version
Optical
Opt Detail
1
Opt Drive
Processor
Cpu
3840 x 2160
Detail
Black
Speed
54.6
Video
Vid Detail
Vid Type
55
Warranty
Warranty
1 Year Deane Return to Base Warranty